By Jorge Rojas-Ruiz, Humanitas Global
In light of today's celebration of the 20th anniversary of the International Day of Families and this year's declaration by the United Nations as the International Year of Family Farming, this week is an opportune time to focus the spotlight on family farming's role in fighting global hunger and ensuring a well-balanced nutrition for all. Smallholder family farms face a specific set of challenges and opportunities and require agricultural, social and environmental policies that support their needs and role in supporting food and nutrition security.
Family farmers are leading actors in ensuring global food security. Over half a billion family farmers produce more than 50 percent of the food our world consumes on a daily basis. Most of these heroes work tirelessly to help feed us; yet, they barely have enough to feed their own families or any surplus left to sell or trade in markets for their own consumption. In addition, family farming practices are less damaging to our environment and help protect crop nutrients leading experts in the field to argue that family farms "are not only feeding the world, but also nourishing the planet".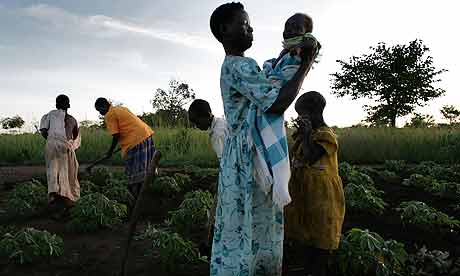 Photo credit: www.theguardian.com
This is a well-recognized fact by the international community – for example, if we look at the five key elements of the UN Zero Hunger Challenge, not only does one of them address smallholder farmers specifically, (but three others also include specific mention of issues relevant to family farming practices (see chart below). Consequently, as well look to eliminate hunger it is important to focus on strategies that benefit family farmers in a sustainable manner.
Family Farming in the UN Zero Hunger Challenge
 

 

 100% access to adequate food all year round

 

This goal intends to "enable all people to access food at all times by promoting nutrition-sensitive agriculture, boosting food supply from local producers and developing well-functioning markets and trade policies" for family farmers.

 

 

 

All food systems are sustainable

 

Family farmers play an important role in ensuring sustainable farming practices are in place by wisely using natural resources to protect the local environment.

 

 

 

 100% increase in smallholder productivity

 

This goal specifically targets family farmers and hopes to help increase smallholder's income by supporting agricultural research and innovation and enabling access to assets and natural resources that make family farming more efficient.

 

 

 

 Zero loss or waste of food

 

By improving storage and transport facilities waste of food can be minimized. Family farmers play a leading role for this goal as their production capacities and trade practices at markets can help reduce loss or waste of food.

 
While the importance of family farmers is well-known, it is important to translate this recognition into policies that directly influences family farming practices, supports their access to resources, and helps boost their productivity. Being personally involved with nutrition programs for children in El Salvador and having firsthand experience working with rural Bolivian communities, I believe that one of the biggest challenges is taking in-the-field realities into consideration while developing and implementing programs and policies that will create an impact.
For example, when creating a training program for rural farmers on more efficient ways to care for crops in order to minimize the use of natural resources such as water, we must be aware of the limitations farmers have to understand learning materials. Do family farmers know how to read, are they aware of the risks of over using water, do they care for environmental sustainability? How can we share messages with them in a manner that allows them to not only absorb the messages in a way that makes sense to them, but also in a way that allows them to take ownership of the programs implemented and feel invested and committed to their success? These are all questions practitioners must have an answer for, and will only learn the answers by getting immersed at the local level.
On this International Day of Families we who work in international development are urged to make families a priority in all of our initiatives and conversations. Family farming is a practice that must be supported and protected and it is a pathway to help end world hunger and malnutrition for all.